Homeless to Lawyer Podcast
Episodes of Homeless to Lawyer Podcast are now available on Spotify, Amazon Music and Apple Podcasts. You can also listen at the link below.
On January 6th, 2021, supporters of President Donald Trump believing that the 2020 Presidential Election had been stolen by then President Elect Joe Biden attempted to overturn the election by interrupting the joint session of Congress that was set to count the electoral votes which would certify that Joe Biden would become the 46th President of the United States. There is dispute about what the intent was of the Trump supporters marching over to the U.S. Capitol but it quickly devolved into a riot which saw one of the protestors shot and killed by the Capital Police, numerous people injured, including 138 police officers, looting, vandalism and included members of Congress being locked down for their safety.
President Trump's claims of election fraud and his failure to call off his supporters who had taken over the Capital, for hours was the basis in which he was impeached for incitement of insurrection. Hear from the attorneys who represented President Trump, prominent Philadelphia attorneys Bruce Castor and Michael Van Der Veen who defended the case on behalf of President Trump. In February 2021, the Senate acquitted President in a vote of 57–43.
The attorneys will share how it felt to be part of one of the most significant cases in American History, what treatment they received for representing President Trump while living in a Blue State, how they feel that we can lessen the political divide and what Former Donald Trump is really like?
The discussion ends with Bruce Castor who was the District Attorney in the Cosby case who made the original deal talking about how he feels about Bill Cosby going free and what he thinks about the women who accused Bill Cosby of assault.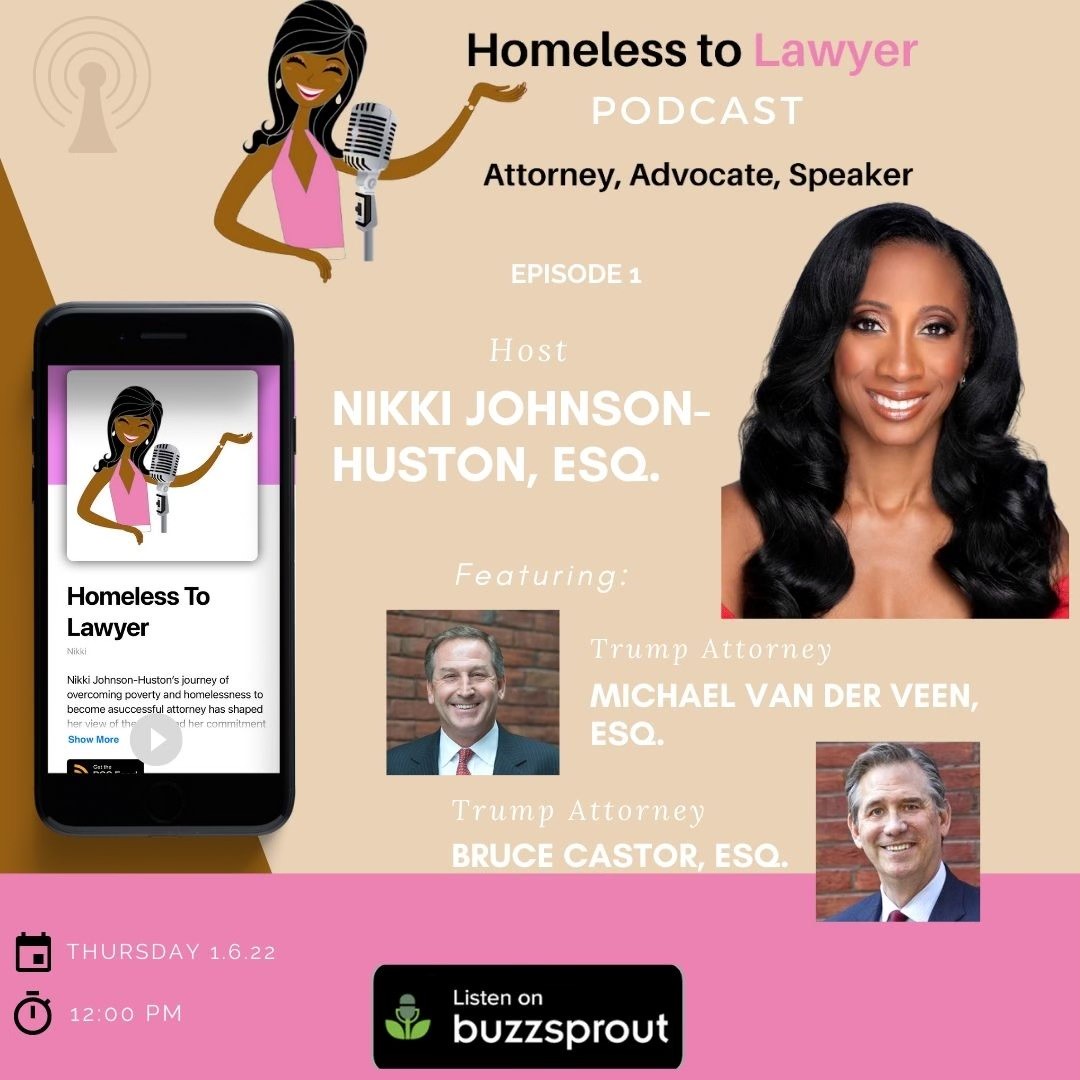 State Representative Donna Bullock is a member of the Pennsylvania House of Representatives representing the 195th Legislative District in North and West Philadelphia. State Rep Bullock is undeniably an American Success Story.  Raised by a single mother, she overcame a childhood of poverty, while experiencing food and housing insecurity to become the incredible leader that she is today. A fierce advocate for those living in poverty, Rep Bullock used her passion for helping others to become an attorney for Community Legal Services before serving as special assistant to Philadelphia City Council President Darrell L. Clarke. A wife and mother to two boys, State Rep. Bullock has taken on the fight for access to quality public education for all and criminal justice reform. State Rep Bullock has recently been making headlines as an outspoken critic of the Philadelphia School District's new lottery process for placing students in some of the best public high schools in the city, a move the Philadelphia School District believes will provide better opportunities for disadvantaged students but State Rep. Bullock believes will hurt many of the students it's intended to benefit. I hope this discussion will answer the question of how do you best help disadvantaged students find educational opportunities?
​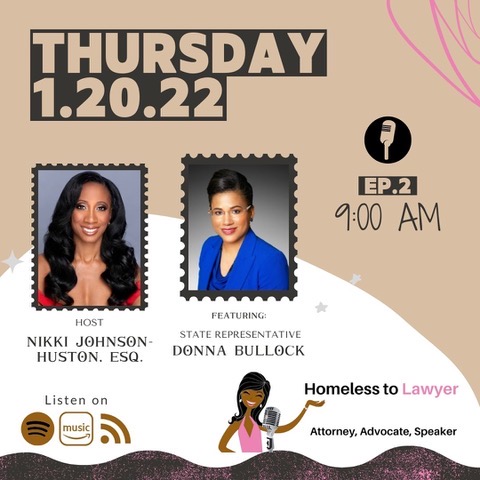 On January 2010, Seth Williams was elected the first African American District Attorney in both the City of Philadelphia and the Commonwealth of Pennsylvania.  During his time in office there was a significant decrease in gun violence, his office aggressively prosecuted Catholic Church sex abuse cases and Seth Williams was a trail blazing district attorney in criminal justice reform.  Unfortunately, within seven short years he would be indicted on 23 counts of bribery, extortion, and fraud, he was forced to resign and pleaded guilty to one charge in June 2017. After spending 3 years in Federal Prison, Seth Williams is back working in Philadelphia with recently released inmates helping them to obtain the necessary skills to succeed in life after prison. This conversation will discuss Seth Williams rise, fall and hopeful redemption. As a former District Attorney he shares his thoughts on the increasing crime rate and what he believes we can do to provide a fair and equitable criminal justice system while also preserving public safety.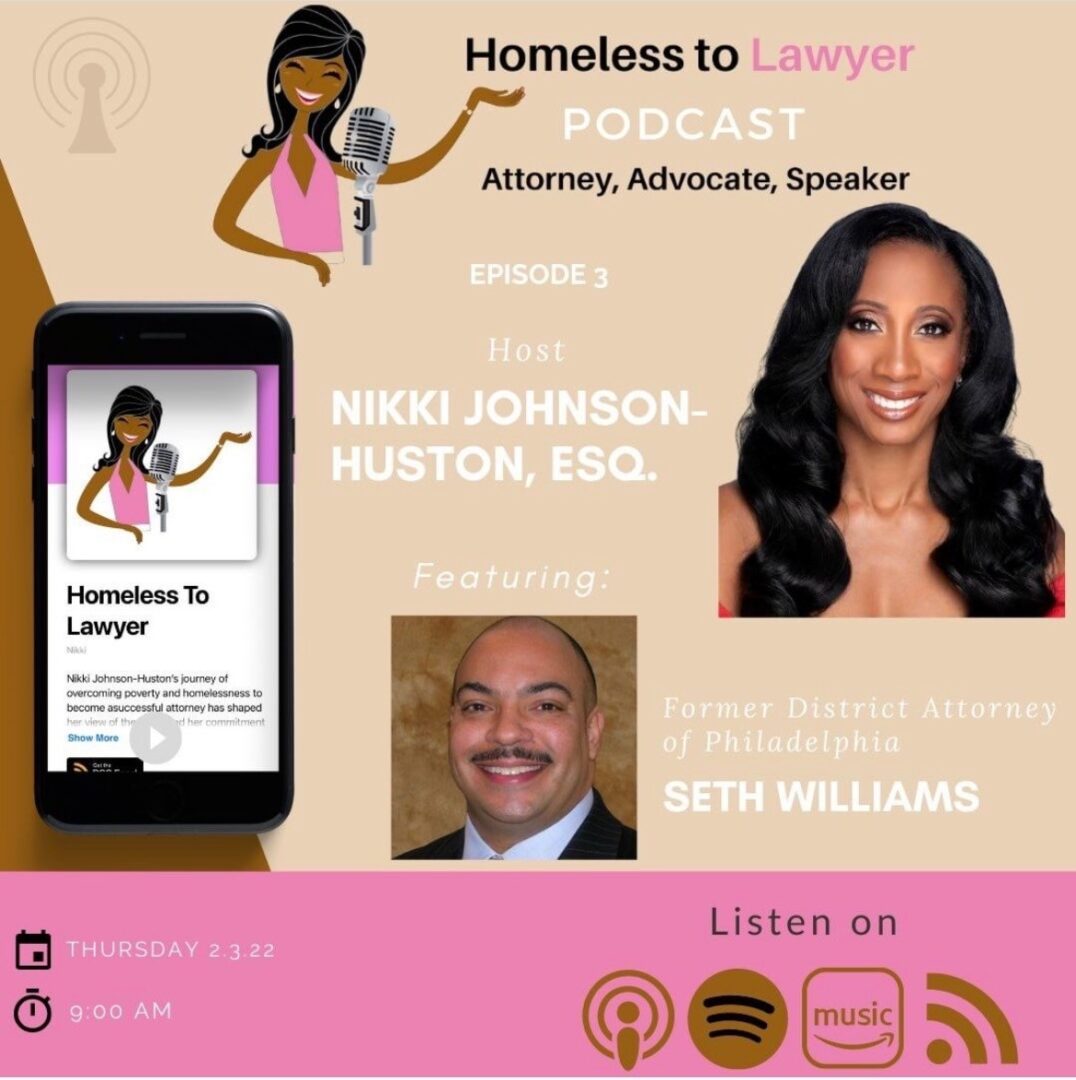 Christine Flowers is a proud Philadelphian, accomplished immigration attorney and a conservative writer and controversial political commentator. Christine has been vocal in her opposition to abortion, critical race theory and Black Lives Matter. She is equally vocal about what it means to be a good Catholic. Christine discusses her journey from Democrat to Conservative and the challenges of espousing a very different political philosophy than many who live in her beloved Philadelphia.
We talk race, crime and cancel culture. Hear Christine's thoughts on political figures President Joe Biden and progressive District Attorney Larry Krasner. Join us for an honest yet respectful conversation that touches on many current hot-button issues. We try to answer the question - how do you find common ground with such divergent viewpoints and, more importantly, is it even possible in today's divisive political climate?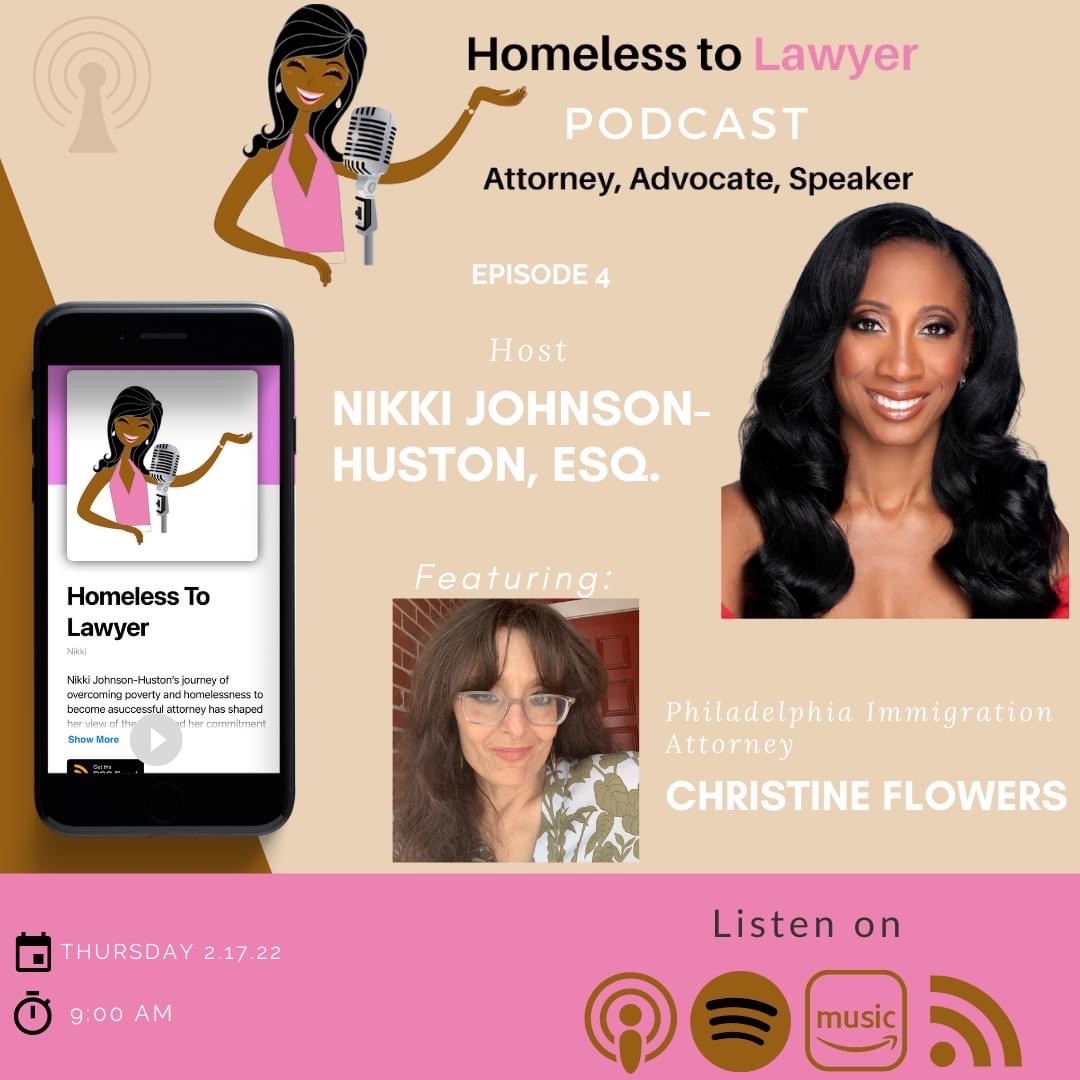 Keisha Hudson is the new Chief Public Defender for Philadelphia and has spent nearly eighteen years as a public defender, first with the Defender Association of Philadelphia and then as a capital appellate defender with the Federal Defender-Eastern District of Pennsylvania (Capital Habeas Unit) representing people on death row in their state post-conviction and federal habeas appeals. As a seasoned trial and appellate defender, Ms. Hudson has an in-depth understanding of what it means to be a public defender. At the Capital Habeas Unit, Ms. Hudson was the Director of Training.
In 2016, Ms. Hudson left the Federal Defender and joined the Montgomery County Office of the Public Defender Officer to become the Deputy Chief Defender. Ms. Hudson joined the Montgomery County Office of the Public Defender with the goal of building and strengthening advocacy in the courtroom. Along with former Chief Defender Dean Beer, Ms. Hudson addressed systemic issues regarding policing, pretrial detention, sentencing, and probation in the county. In four years, Chief Defender Dean Beer and Ms. Hudson built one of the best public defender offices in the state.
In 2020, Ms. Hudson worked with The Justice Collaborative and The Appeal, developing and leading advocacy and media campaigns on criminal justice issues- specifically campaigns aimed at looking at creative and successful community alternatives that truly create public safety. From 2020 to the present Ms. Hudson has been a visiting professor at Temple University's Beasley School of Law.
Ms. Hudson discusses her journey as an immigrant from Jamaica to an advocate from those that end up in the criminal justice system. Ms. Hudson talks about what she believes to be the root causes of crime, why we are seeing a sharp increase in the crime rate and what can be done to create an equitable system while also maintaining public safety. Some of the hot button issues in criminal justice reform like reduced probation terms and no cash bail and why the role of Public Defender is so important.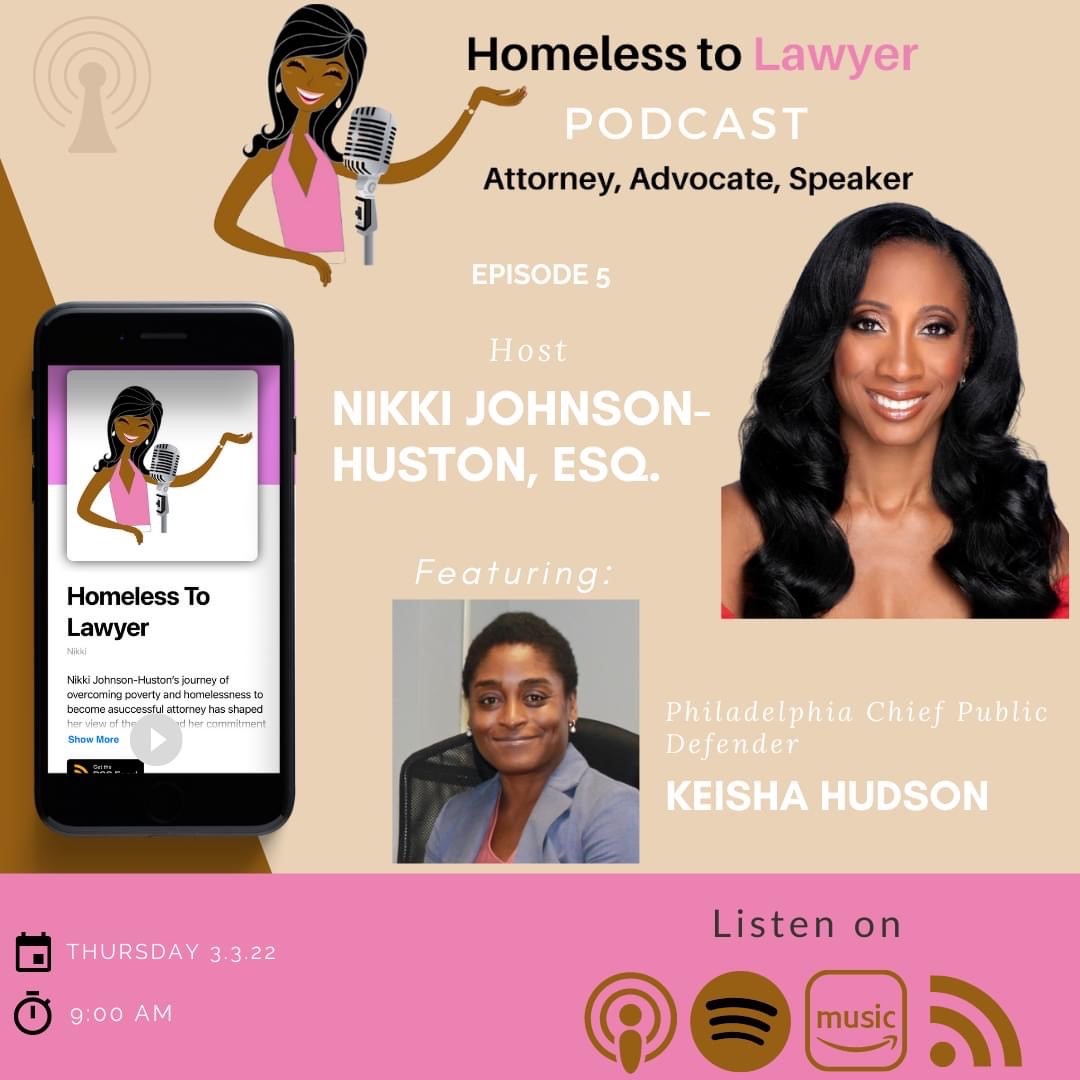 Reggie Shuford became executive director of the ACLU of Pennsylvania in September 2011. Before joining the ACLU-PA, he served as the director of law and policy at the Equal Justice Society (EJS), a national strategy group heightening consciousness on race in the law and popular discourse. From 1995-to 2010, Reggie served as senior staff counsel in the national ACLU's Racial Justice Program. During his tenure there, he helped pioneer legal challenges to racial profiling practices nationwide. He was the ACLU's chief litigator in challenges to racial profiling, leading national litigation efforts and consulting with ACLU state affiliates and others in cases of "driving while black or brown," airport profiling, and profiling related to the war on terror.
This podcast discusses Reggie's upbringing in North Carolina, his experience as the first black graduate in 1984 from Cape Fear Academy, which was a school created as a "segregation academy" so white children would not have to attend school with black children, and his graduation from The University of North Carolina's School of Law in Chapel Hill. We discuss how these life experiences have fueled his passion for civil rights, equality, and social justice. We also discuss some of today's most talked-about issues like Florida's "Don't Say Gay" Law, Critical Race Theory, and the role that organizations like the ACLU play in creating opportunity and fairness for all people. The recent nomination of the first African-American woman to the Supreme Court and how political polarization hurts the country, especially those in marginalized communities.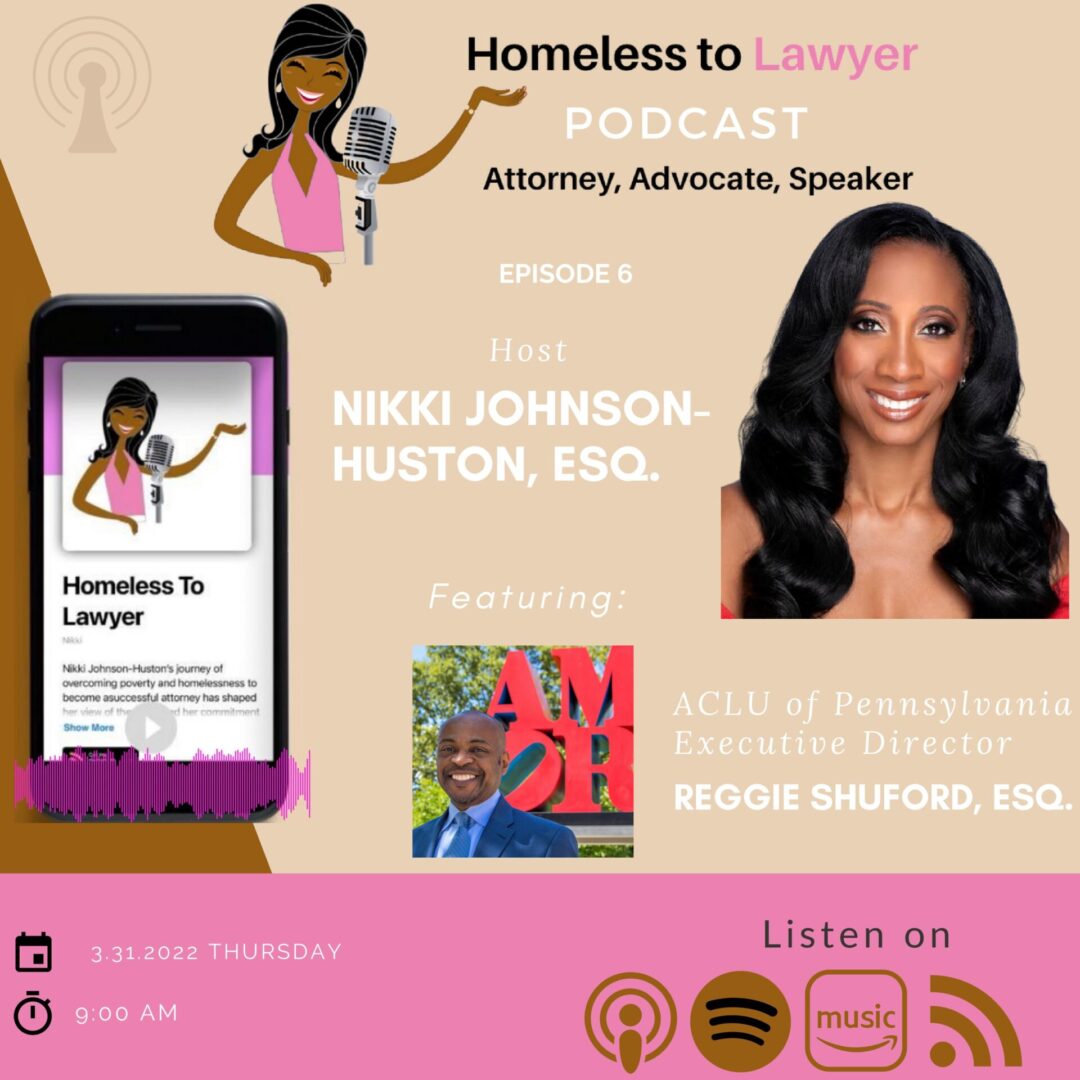 Prominent Philadelphia Attorney and Republican U.S. Senate Candidate George Bochetto is an American Success story. As an infant, Mr. Bochetto was left on the doorsteps of a Catholic orphanage, where he was raised until the age of six, when he entered the foster care system, where he bounced around until he was finally adopted. George worked his way through college and decided to become an attorney. He has had a successful legal career for the last five decades. This podcast will explore Mr. Bochetto's journey from orphan to a lawyer, how his conservative and cultural values shaped his life and why he has decided to run for public office during some of the most politically polarizing times this country has seen in recent memory. Mr. Bochetto explains why he believes that being a conservative is not at odds with wanting to provide better opportunities for everyone, the most pressing issues that Republican voters are concerned with, and answers whether he believes that we as a country can find common ground.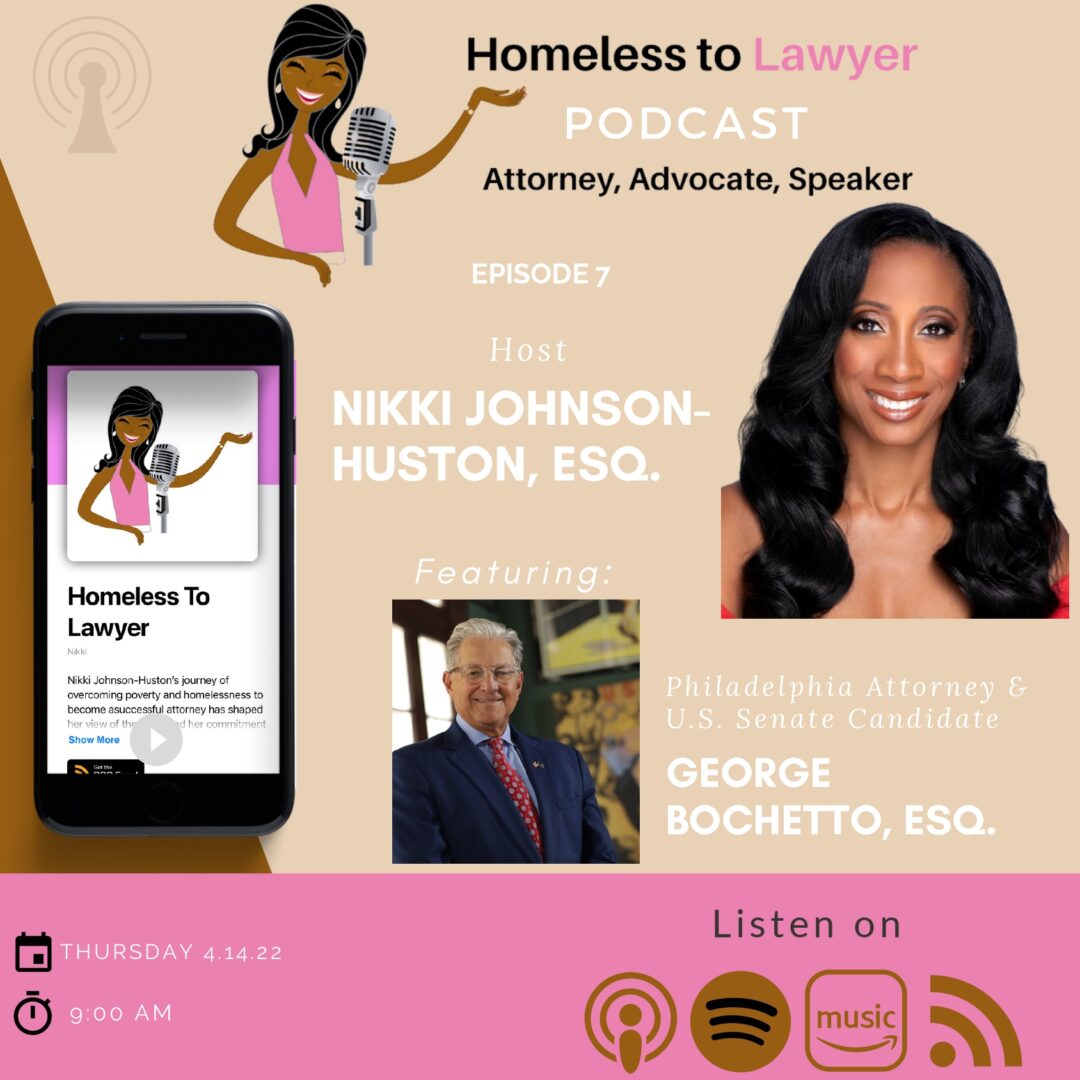 Wesley R. Payne, IV is the 95th Chancellor of the Philadelphia Bar Association and an experienced trial attorney with over 30 years of advising clients on complex litigation matters. In this edition of the Homeless to Lawyer Podcast, Chancellor Payne discusses his background and what lead to his career in law, his involvement in numerous charities with a special emphasis on helping those experiencing homelessness, and his commitment to increasing Diversity and Inclusion within the legal profession. The mission of the Philadelphia Bar Association is to serve the profession and the public by promoting justice, professional excellence, and respect for the rule of law. In so doing, the association strives to foster understanding of, involvement in, and access to the justice system. The Bar Association is the oldest association of lawyers in the country and recently celebrated its 220th Anniversary. Chancellor Payne discusses leading during such challenging times and how he and the Philadelphia Bar Association can best support lawyers.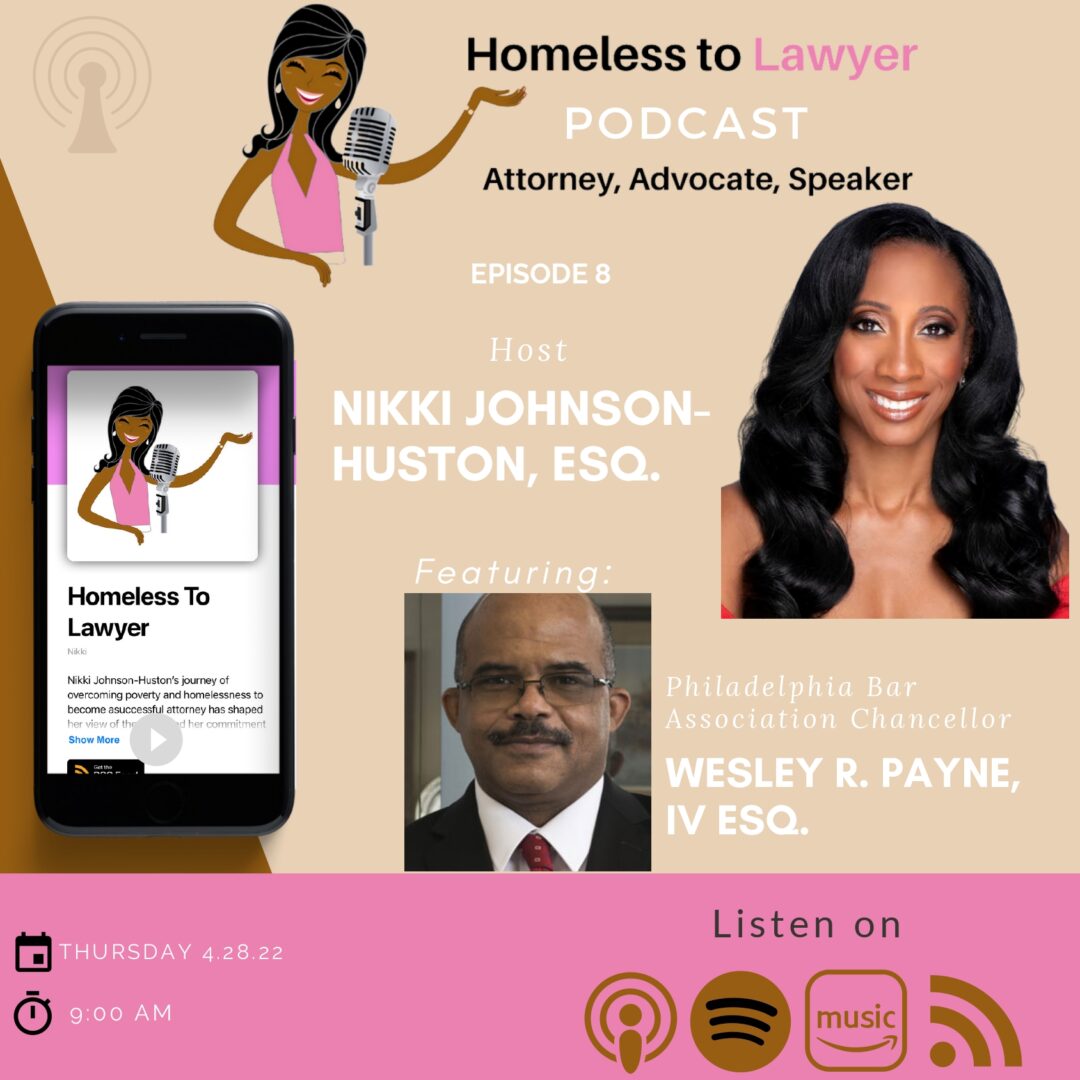 Yasmine Mustafa is a social entrepreneur and the CEO & Co-Founder of ROAR for Good, a mission-driven technology company dedicated to cultivating safer workplaces. The patented platform protects at-risk hotel and healthcare workers from harm by using wearable panic button technology to summon help with one touch of a button. Yasmine speaks compellingly about her journey from undocumented to tech guru, the challenges of being a successful woman leader in the technology spaces, and how being a woman of color has informed her mission of combating violence against women.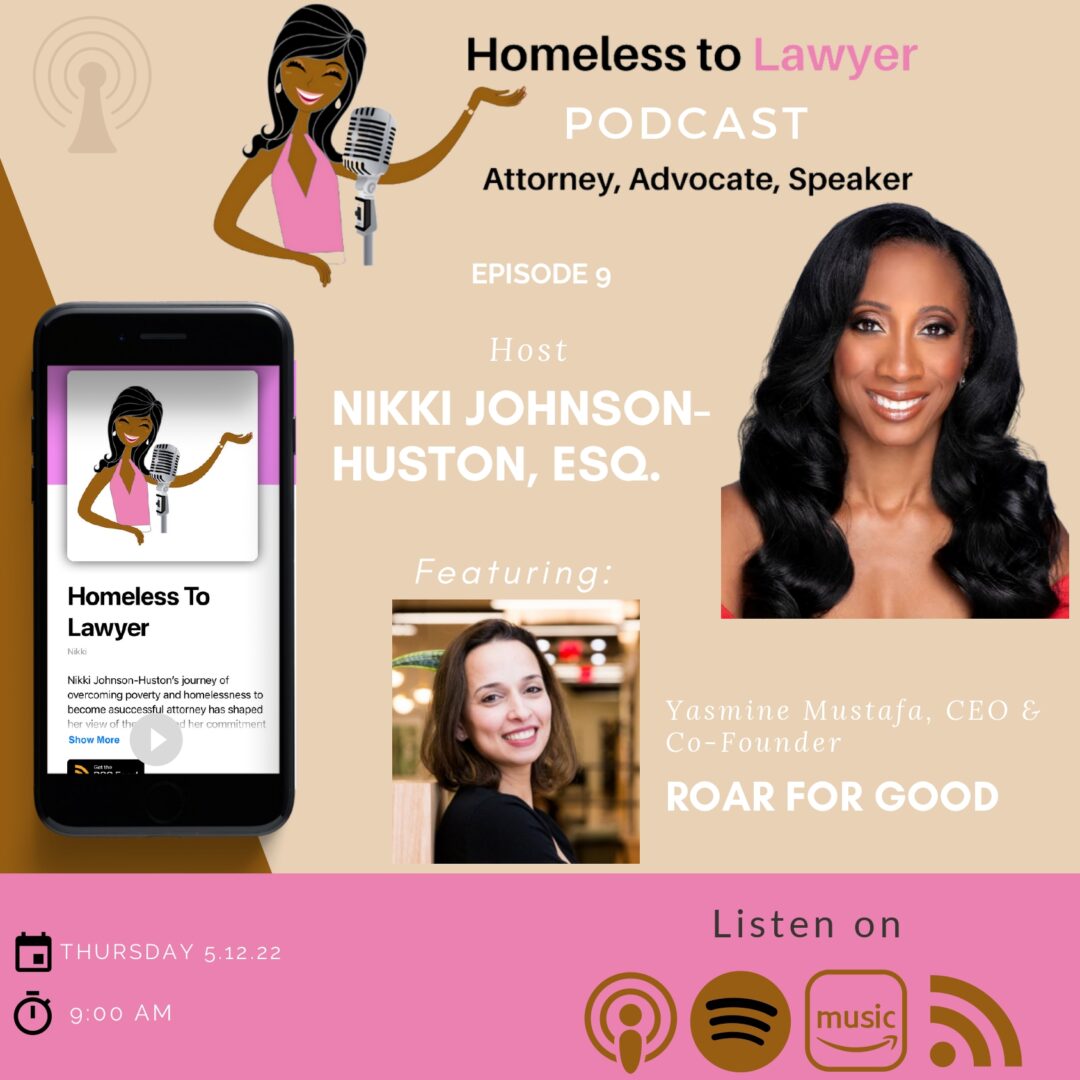 In 2017, Peter Urscheler was elected the youngest mayor in the 169-year history of Phoenixville, Pennsylvania, at the age of 34. Mayor "Pete,"  as he is affectionately known, is an innovative leader. While he is an unabashed cheerleader for his community, he also tackles some of today's most challenging issues like community/police relations and homelessness in an area that is becoming increasingly affluent. There is a fear that it will become unaffordable for some people who may have previously called Phoenixville, PA, home. Mayor Pete discusses how his diverse ethnicity and supportive parents made him the leader he is today, caring for his elderly father during his race for Mayor and how it impacted his time as Mayor and the lessons he learned. When there is a significant political divide, it's refreshing to speak with a politician who represents everyone in his community regardless of whether they agree with him or not.  While it's easy to focus on all national issues, don't forget that "All Politics Is Local."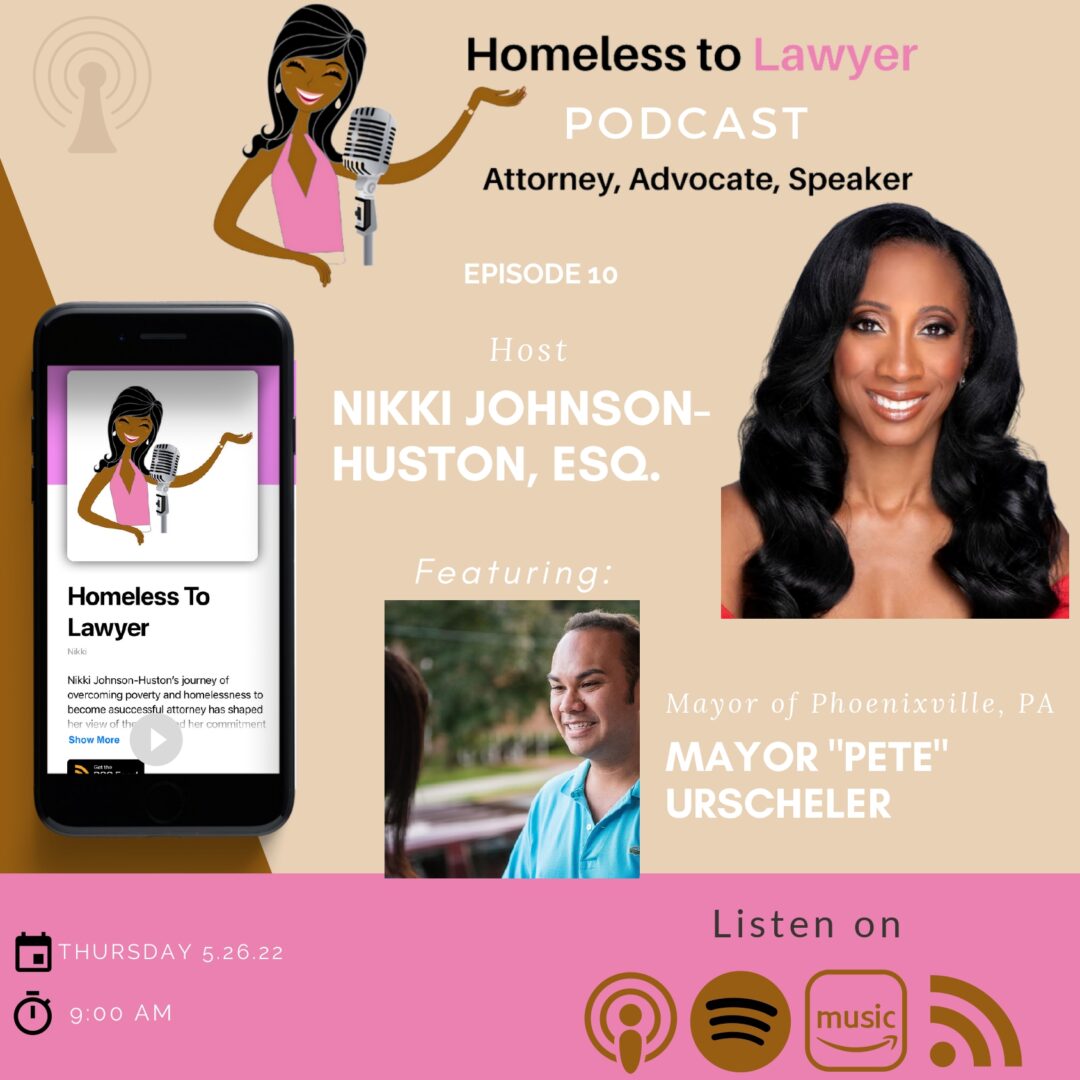 Gina Rubel is a communications expert, former litigator, three-time book author, and CEO of the nationally renowned legal marketing agency, Furia Rubel Communications. On top of all that, she's also the mother of two college-age children and an avid community volunteer. Gina discusses her journey from practicing attorney to being a Public Relations Diva and the pride of celebrating 20 successful years of her company Furia Rubel. The discussion then turns to the services she provides to her clients with a particular focus of the world of social media. We discuss the importance of social media and the pitfalls that individuals and businesses need to be weary of because the influence that can be given by social media prominence can be taken away if social media is used incorrectly in in the form of cancellation. Gina's values are reflected in one of her favorite books, "The Four Agreements" by Don Miguel Ruiz and we discuss how following those rules have helped her find success both personally and professionally.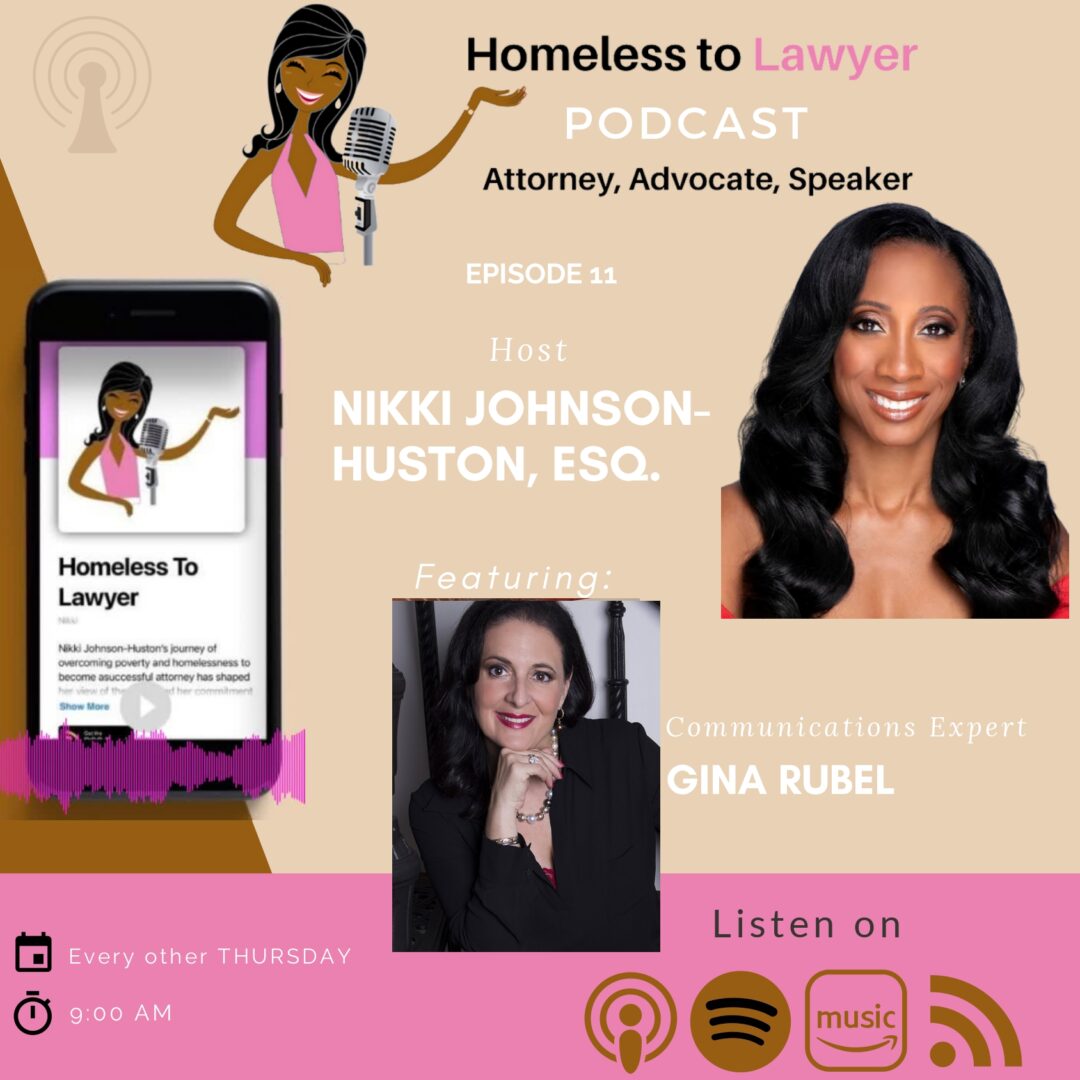 Sister Mary Scullion, Co-Founder of Project HOME (Housing, Opportunities for Employment, Medical Care, Education).) a nationally recognized organization that provides supportive housing, employment, education and health care to enable chronically homeless and low-income persons to break the cycle of homelessness and poverty. and Alfonso Geiger a resident of Project HOME for 8 yeara, discuss the important work of Project HOME, how we can support those experiencing homelessness and what members of the community can do to be more educated on the issue. Alfonso also has a raw and honest conversation about how he ended up on the streets, the life lessons he learned along the way and why it's important for him to pay it forward by sharing his success story. The issue of homelessness is personal to me because of my own family's experience living on the streets so this discussion focuses on finding solutions to homelessness and providing grace, kindness and support to those experiencing homelessness. Because as the motto of Project HOME states: "None of us are home, until all of us are home.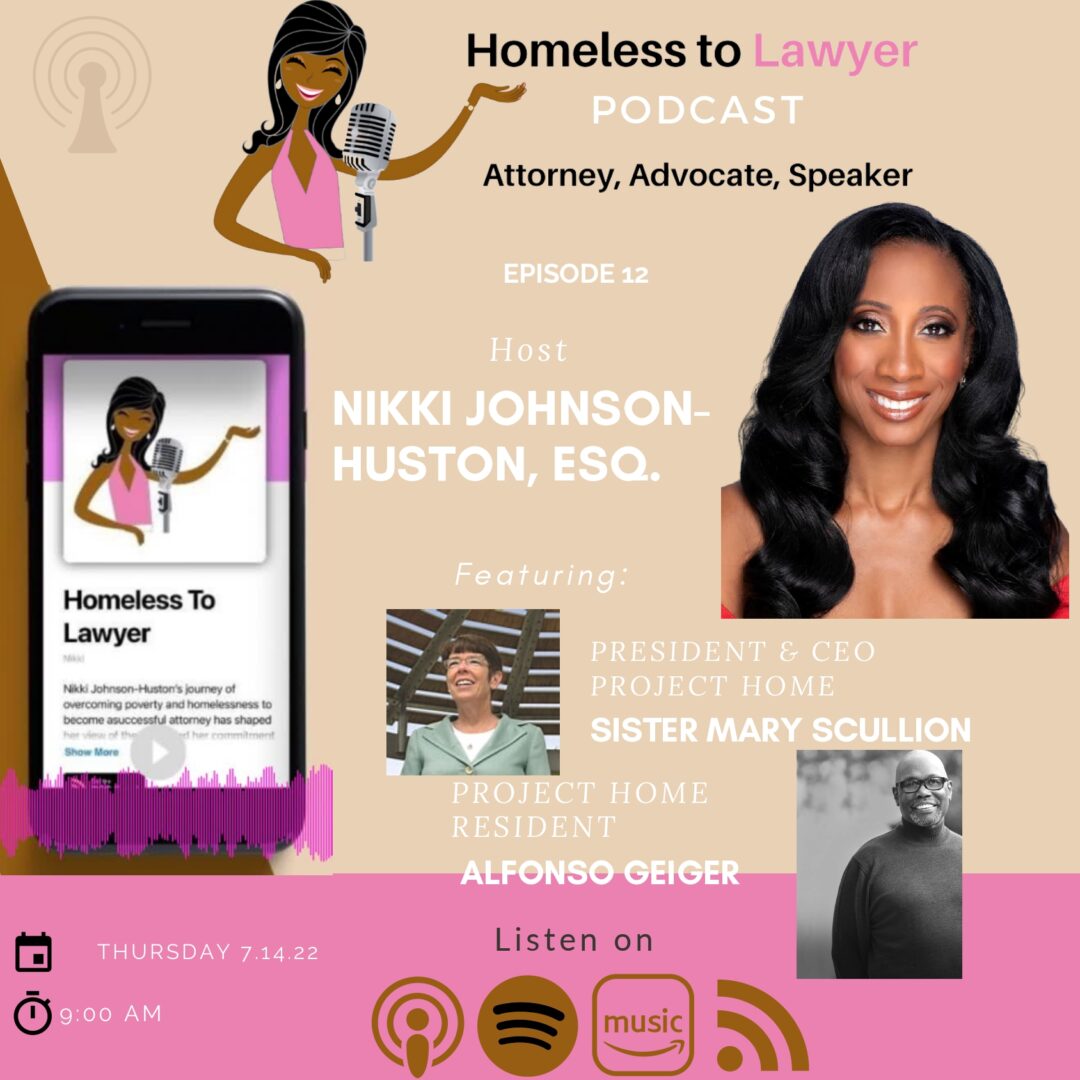 Jeffrey Sitcov is President & Founder of Doors of Change (also known as Photocharity). For over 20 years Jeffrey has been leading an amazing group of committed volunteers to help homeless youth ages 17-25 years old get off the streets in San Diego and in 13 different states. Over this time the group has helped over 15,000 homeless youth, helped place over 2,300 homeless youth in long-term safe housing, and developed an award-winning music and art program ("Taking Music & Art to the Streets") that has benefited more than 8,300 homeless youth. Elton John, Billy Joel, The Rolling Stones, Carlos Santana, B.B King and many others have supported Doors of Change. Jeffrey has received awards locally and nationally, including the Channel 10 Leadership Award, Torrey Pines Bank Circle of Excellence Award, La Mesa Rotary "Peacemaker of the Year Award," and the Jewish Family Services Volunteer of the Year Award. He was also a semifinalist for the national Volvo For Life Award. Jeffrey speaks about why helping homeless youth has become such a passion and what it takes to successfully end the cycle of homelessness.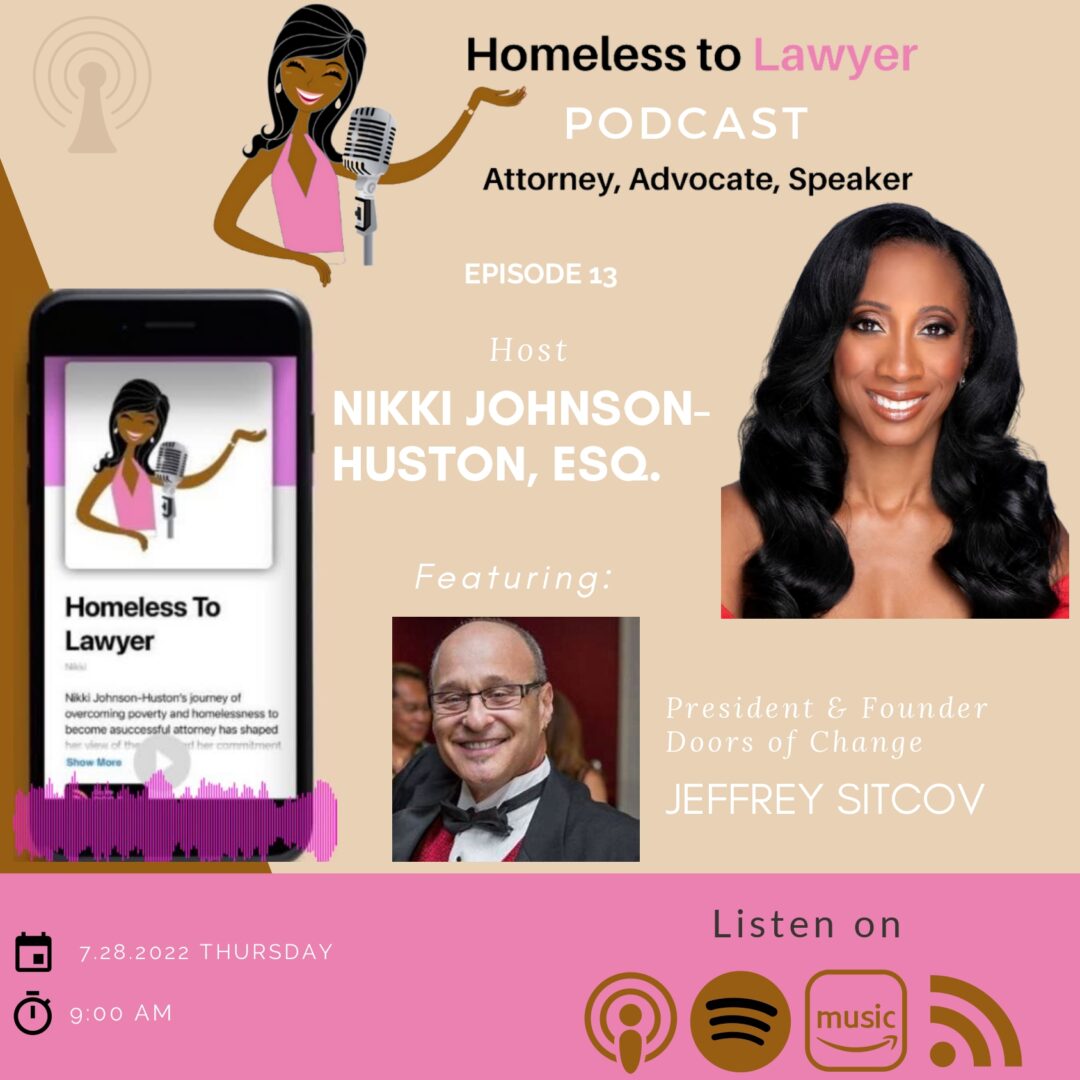 Ira Anthony Evans is a Gifted Celebrity Makeup Artist, based in Philadelphia, PA. This podcast focuses on his passion for beauty and how he used it to become a successful self-taught makeup artist. This conversation discusses the standards of beauty in today's social media world, helping women to find the best version of themselves and how he is growing his brand to be not only an incredible artist but also a successful business person. Ira discusses the challenges that he has had as a gay black man in the beauty industry and how he is using those experiences to move his business forward into the future.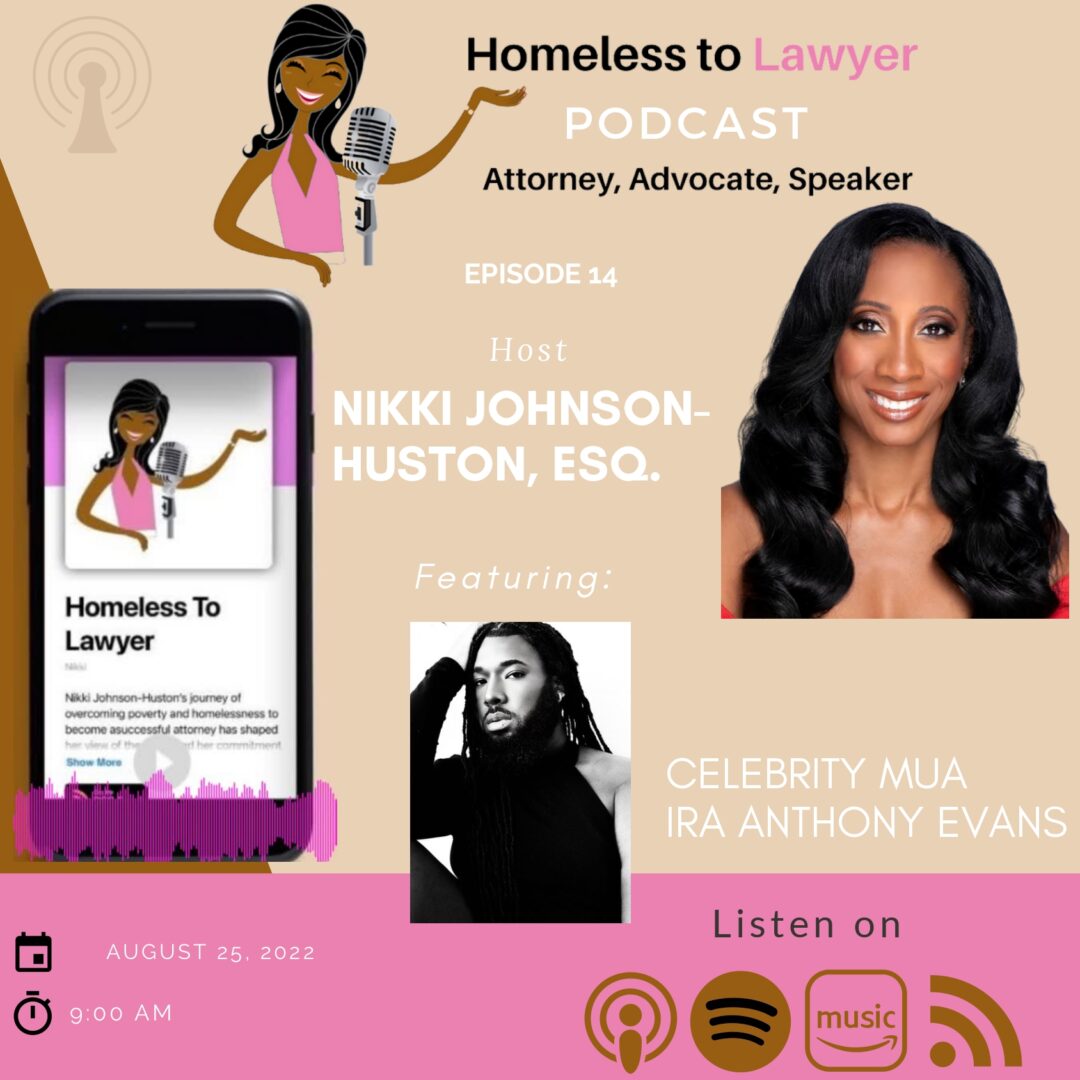 Randy Robinson is a political consultant and government relations liaison for M R Strategies, LLC and RRR Consulting, LLC. Randy has a proven record of success in planning and leading comprehensive strategies in support of candidates' and/or organizations' goals and objectives. Randy is also an On-Air Political Contributor for Fox 29. This episode discusses Randy's journey into the political world, becoming a Black Republican and the issues and concerns he has about the current state of the Republican Party. We speak about his commitment to the black community and his involvement with the National African-American Gun Association and his advocacy around promoting responsible gun ownership for black gun owners. Lastly, we discuss which party has the best solutions to today's most pressing social issues.